The iPad could be the first device to gain Apple's long-rumored under-display Face ID technology instead of the iPhone, according to insightful display analyst Ross Young.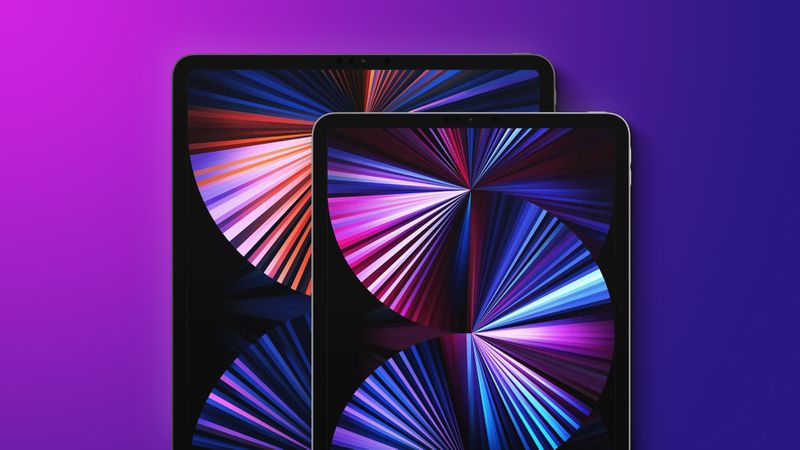 The comments, made on the latest episode of The MacRumors Show, provide insights into Apple's future plans for the iPad. Young thinks that Apple's under-display TrueDepth camera could come to the ‌iPad‌ before it comes to the ‌iPhone‌, with the technology being easier to introduce underneath a larger display with lower pixels per inch.
This under-display implementation is also said to be more feasible because the ‌iPad‌ is manufactured in lower volume than the ‌iPhone‌. He added that this new feature could theoretically emerge as soon as next year, well ahead of when the technology is expected to appear on the iPhone.
In addition, Young claimed that obtaining a sufficient volume of cover glass has been a key limiting factor in Apple's failure to bring a foldable iPhone to market so far. The company is not expected to face such problems with a larger foldable ‌iPad‌ or MacBook, hence why a bigger Apple foldable device could also come to market before a foldable ‌iPhone‌.
It is not unprecedented for Apple to introduce new technologies on the ‌iPad‌ rather than the ‌iPhone‌. For example, while innovations such as ‌Face ID‌ and Touch ID were first to come to the ‌iPhone‌, True Tone, larger quantities of memory and storage, ProMotion refresh rates, and the LiDAR scanner all first arrived on the ‌iPad‌.
Earlier this year, Young said that he expects the "‌iPhone‌ 18 Pro" in 2026 to be the first ‌iPhone‌ with both under-display ‌Face ID‌ and camera. With the news that the tech could come to the ‌iPad‌ first, customers may expect an iPad Pro model to arrive with the technology at an earlier date, perhaps between 2023 and 2025.
Related Stories
Apple's Future iPad Updates: 14-Inch Model, Under-Display TrueDepth, OLED Technology and More
Apple is planning a range of transformative upgrades for the iPad lineup in the coming years, including a new 14.1-inch model and an 11-inch model with an OLED display, as well as the introduction of under-screen camera technology and foldable displays, according to reliable display analyst Ross Young. The comments, made on the latest episode of The MacRumors Show, provide insights into…
Apple's Even Bigger iPad Pro Could Be Foldable
Apple could be working on an even larger, foldable iPad Pro model, multiple reports appear to indicate. Display Supply Chain Consultants (DSCC) analyst Ross Young recently claimed that Apple is exploring the possibility of offering notebooks with foldable displays. The company is said to be discussing such devices with displays around 20 inches in size with its suppliers. This display size…
Samsung Claims Foldable Phones Are Going Mainstream
While Apple has yet to release a foldable iPhone, Samsung is about to unveil a new series of foldables for the third consecutive year at its Unpacked event on August 10. Meanwhile, Samsung's mobile president TM Roh believes that we are already seeing the mainstream acceptance of Foldable smartphones play out as consumers switch to the devices in increasing numbers. In a blog post titled "The …
How Would a MacBook With a Foldable Display Work?
Amid reports of Apple working on a notebook with a foldable display, how exactly could such a device be implemented? Concept by Majin Bu Earlier this week, Display Supply Chain Consultants (DSCC) analyst Ross Young claimed that Apple is exploring the possibility of offering notebooks with foldable displays. The company is said to be discussing such devices with displays around 20-inches in…
The MacRumors Show: Ross Young Talks Major iPad and MacRumors for 2023 and Beyond
Display analyst Ross Young joins us on The MacRumors Show podcast this week to discuss some of his biggest leaks about Apple's plans for the next year and beyond. Subscribe to the MacRumors YouTube channel for more videos Ross is co-founder and CEO of Display Supply Chain Consultants (DSCC), a leading display market research firm, and has worked throughout the display supply chain. Ross is…
Apple Expected to Replace Notch With Pill-and-Hole on All iPhone 15 Models
All four iPhone 15 models slated for release next year will feature a pill-and-hole display design that replaces the notch, according to display industry consultant Ross Young, who has a respectable track record with display-related information. In a tweet, Young shared a roadmap that indicates both standard and Pro models of the iPhone 15 will feature the pill-and-hole layout, which refers…
Report: Apple Exploring 20-Inch All-Screen Foldable MacBook, But Foldable iPhone Delayed Until 2025
Apple has likely delayed its foldable iPhone until 2025 and the company is exploring all-screen foldable MacBooks, according to Display Supply Chain Consultants (DSCC) analyst Ross Young. In a new DSCC report on upcoming foldable and rollable devices, Young explained that Apple's long-rumored foldable iPhone has been delayed until 2025. This appears to be a significant delay compared to prevent…
Popular Stories
Apple Seeds Second Public Betas of iOS 16 and iPadOS 16
Apple today seeded the second betas of iOS 16 and iPadOS 16 to public beta testers, opening up the iOS 16 beta testing process to the general public. Today's beta comes a little over two weeks after the first public beta, and it corresponds with the fourth developer beta. Public beta testers who have signed up for Apple's free beta testing program can download the second iOS 16 and iPadOS 16 …
Everything New in iOS 16 Beta 4 For Lock Screen, iMessage, CarPlay, and More
Apple today seeded the fourth beta of iOS 16 to developers for testing. The latest beta contains a handful of new features and changes involving the Messages app, Home app, Mail app, Lock Screen notifications, CarPlay, and more. Subscribe to MacRumors on YouTube iOS 16 is currently in beta for developers and members of Apple's free public beta testing program, and the software update will be…
Top Stories: iOS 16 Beta 4, 'Apple Watch Pro' Rumors, and More
We're probably about six weeks away from the unveiling of the iPhone 14 lineup and Apple is continuing to polish the iOS 16 update that will be released alongside the new hardware, so we're seeing a number of tweaks as it moves through the beta testing period. This week also saw some rumors about the rugged "Apple Watch Pro" planned for launch later this year, as well as some of the…
Five Apple Products Rumored to Switch to USB-C
While the iPhone still uses the Lightning connector for now, Apple has been transitioning many of its devices to USB-C in recent years. Apple now offers USB-C ports on every Mac that it currently sells, ranging from the MacBook Air to the Mac Pro. Other devices with a USB-C port include the 2018 and newer iPad Pro, 2020 and newer iPad Air, sixth-generation iPad mini, Studio Display, and Pro…
Apple Erroneously Sending iTunes Connect Email to Users
Apple is erroneously sending emails to users asking them to update their iTunes Connect banking information, but the users receiving the emails often have no content being distributed via the service. Users have flocked to Twitter to share their confusion over the email, which reads, "we're reaching out because your banking information in iTunes Connect is invalid and needs to be corrected…
Apple Reports 3Q 2022 Results: $19.4B Profit on $83B Revenue
Apple today announced financial results for its third fiscal quarter of 2022, which corresponds to the second calendar quarter of the year. For the quarter, Apple posted revenue of $83 billion and net quarterly profit of $19.4 billion, or $1.20 per diluted share, compared to revenue of $81.4 billion and net quarterly profit of $21.7 billion, or $1.30 per diluted share, in the year-ago quarter …
Apple Allegedly Prototyped a Redesigned 27-Inch iMac With M1 Max Chip and Black Finish Last Year
Apple prototyped at least three larger iMac models with Apple silicon chips last year, according to information shared by MacRumors forum member Amethyst back in March. The forum member said they obtained the details from an acquaintance. We've elected to share this iMac information given that Amethyst accurately revealed details about the Mac Studio before anyone else, including the name of …
.